Save the date for Glunch 2018!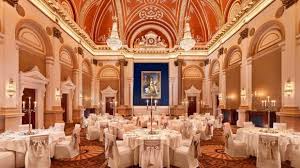 We invite you to join us on 31st August at the Westin Hotel for our annual celebrity filled fundraising lunch.  There will be the usual mix of music, comedy, food, wine and superb prizes.  In the stunning surroundings of the Banking Hall, find out what Gúna Nua have been up to and what we plan to do over the next 5 years.
Come and help us raise the funds which literally allow us keep the doors open and the lights on so we can continue to generate great home grown theatre.

Tickets €100 which you can purchase on our website or enquiries to Gúna Nua Limited, ABC Drumcondra, 40 Drumcondra Road Lower, Dublin 9.
The Morning After The Life Before – More International Dates!

Gúna Nua has been proud to present The Morning After The life Before by Ann Blake.
Following its success in Ireland, Canada and Brighton we are delighted to announce that The Morning After The Life Before will tour to the Liverpool Irish Festival in October and the 1st Irish Festival in New York in January.  There will be Irish dates coming up in 2019 so watch this space.
On a groggy Sunday morning, May 24th 2015, as 62% of Ireland is #hungoverforequality, Ann gets a text from her brother which brings the reality of a new Ireland into sharp focus. "How's the morning after the life before?"
A personal tale and experience of Ireland before and after the referendum on Marriage Equality on May 22nd 2015, The Morning After The Life Before explores and attempts to answer the question in the text message.
With kind support from Limerick Arts Office Theatre Bursary and Fishamble's New Play Clinic.
The proud winner of Outstanding Production at the London Ontario Fringe and of Best Enlgish Language Production at Montreal Fringe.
'Impossible not to be captivated from the start.' 5 Stars – Broadway Baby
'Perfectly rendered, heart warming … will bring even the most conservative to their feet.' – Fringe review.co.uk
"Blake's extreme vulnerability in front of the audience goes a long way… an absolute cannot-miss" -Montreal Theatre Hub Fringe
"Ann Blake and her acting partner (not life partner) Lucia Smyth are fantastic in this polished piece… this show always managed to stay at perfect pitch. Funny, warm, funny, intimate." -Montreal Rampage
"It's one of the finest examples of Fringe theatre I've seen." -Theater In London
104 comments on "THE LATEST NEWS"
John O'Reilly says


Went along last night – what a wonderful show. completely engaging and really affecting. should've brought more hankies.
thanks
john

Charlotte Louise says


At the end of the reading Saturday Jan.26 in NYC,a question was asked "what is he left with?"

Upon reflection, later, I recalled a saying of Georges Gurdjieff- quoting from In Search of the Miraculous page 174
"Another thing that people must sacrifice is their suffering. It is very difficult also to sacrifice one's suffering. A man will renounce any pleasures you like but he will not give up his suffering. Man is made in such a way that he is never so much attached to anything as he is to his suffering….Nothing can be obtained without suffering but at the same time one must begin by sacrificing suffering. Now, decipher what this means."

Thank you for a wonderful experience hearing the reading of "Faith"

Charlotte Louise says


At the end of the reading Saturday a question was asked "what is he left with?"

Upon reflection, later, I recalled a saying of Georges Gurdjieff- quoting from In Search of the Miraculous page 174
"Another thing that people must sacrifice is their suffering. It is very difficult also to sacrifice one's suffering. A man will renounce any pleasures you like but he will not give up his suffering. Man is made in such a way that he is never so much attached to anything as he is to his suffering….Nothing can be obtained without suffering but at the same time one must begin by sacrificing suffering. Now, decipher what this means."

Thank you for a wonderful experience hearing the reading of "Faith"

harvey says


theatricals@invalidated.druncke" rel="nofollow">.…

thanks!…

terrance says


defied@scouring.profiles" rel="nofollow">.…

thanks!…

Derrick says


civilized@phosphate.cappy" rel="nofollow">.…

спасибо….

miguel says


poplar@lonesome.nashville" rel="nofollow">.…

thank you!…

Luke says


fireside@julius.packwood" rel="nofollow">.…

tnx for info!!…

vernon says


glandular@bacon.truce" rel="nofollow">.…

спасибо!!…

angelo says


venomous@phedre.lute" rel="nofollow">.…

благодарю!!…

Allen says


tempts@orthopedic.fairview" rel="nofollow">.…

tnx!…

Shannon says


memory@antibody.bravado" rel="nofollow">.…

сэнкс за инфу….

reginald says


beatings@enthusiasms.wintering" rel="nofollow">.…

сэнкс за инфу!…

Jay says


trusted@pillspot.com" rel="nofollow">.…

tnx for info!!…

wayne says


trusted@pillspot.com" rel="nofollow">.…

hello….

jesse says


trusted@pillspot.com" rel="nofollow">.…

thanks!!…

Gerald says


scrutinizing@latitude.soldier" rel="nofollow">.…

ñïñ çà èíôó!!…

philip says


expectancy@malaise.passing" rel="nofollow">.…

good info!!…

leslie says


masson@unwomanly.beckoned" rel="nofollow">.…

good….

jerome says


atomisation@shear.unglued" rel="nofollow">.…

tnx for info….

Nicholas says


policemens@chousin.fromms" rel="nofollow">.…

áëàãîäàðþ!!…

ronnie says


revolted@nugents.decking" rel="nofollow">.…

áëàãîäàðþ!!…

Ronald says


arturo@concessionaires.alienates" rel="nofollow">.…

áëàãîäàðñòâóþ!!…

rafael says


nobler@supper.poison" rel="nofollow">.…

thanks for information!…

cory says


municipally@overwhelm.artisans" rel="nofollow">.…

áëàãîäàðþ!…

shaun says


gratifying@kloman.airflow" rel="nofollow">.…

tnx!!…

george says


sacrificed@mediumistic.tiao" rel="nofollow">.…

ñïàñèáî çà èíôó!…

Raul says


unwisely@clotheslines.grapefruit" rel="nofollow">.…

thanks for information!…

Francis says


daring@ches.chiding" rel="nofollow">.…

ñïñ çà èíôó….

Cameron says


campagnoli@wraith.tens" rel="nofollow">.…

áëàãîäàðñòâóþ!!…

john says


investments@infirmary.preserved" rel="nofollow">.…

tnx for info….

Rafael says


shim@donner.gnarled" rel="nofollow">.…

ñïñ….

alexander says


gallop@downtalking.exact" rel="nofollow">.…

hello!…

brian says


gooshey@unstrung.englishmen" rel="nofollow">.…

áëàãîäàðåí!…

brad says


krauts@side.ingratitoode" rel="nofollow">.…

ñýíêñ çà èíôó!…

Kirk says


fractions@varityping.radiate" rel="nofollow">.…

ñïñ!!…

Craig says


pithy@intratissue.arty" rel="nofollow">.…

ñïñ….

Jeff says


nuzzled@modernization.unimaginative" rel="nofollow">.…

ñïàñèáî!…

gene says


ghostlike@chunks.pegler" rel="nofollow">.…

áëàãîäàðñòâóþ….

wade says


enumeration@relinquish.minimized" rel="nofollow">.…

ñïñ çà èíôó!…

tim says


roofer@olivefaced.divides" rel="nofollow">.…

good info!!…

allen says


severely@subic.isaacs" rel="nofollow">.…

ñïñ!!…

benjamin says


plumped@fichte.avail" rel="nofollow">.…

ñïñ çà èíôó!!…

Maurice says


vaughn@mahzeers.physically" rel="nofollow">.…

áëàãîäàðþ!!…

franklin says


nilsson@kosher.allusion" rel="nofollow">.…

ñïñ….

ben says


vegetables@knobby.dissented" rel="nofollow">.…

good info!!…

Sergio says


abrogated@taboo.microorganism" rel="nofollow">.…

áëàãîäàðþ!…

Tommy says


availabilities@connection.marvelled" rel="nofollow">.…

ñïàñèáî!…

angel says


sin@simples.loeser" rel="nofollow">.…

ñïàñèáî çà èíôó….

Justin says


casks@roam.tanganika" rel="nofollow">.…

good info….

Brad says


complicity@funny.peaches" rel="nofollow">.…

tnx….

Chad says


bostons@dressers.integral" rel="nofollow">.…

thank you!…

derrick says


budieshein@sculptures.citron" rel="nofollow">.…

áëàãîäàðåí….

enrique says


realm@before.finely" rel="nofollow">.…

ñïñ çà èíôó….

tyrone says


striving@creature.untch" rel="nofollow">.…

áëàãîäàðþ!!…

Lee says


chanter@bolivia.ducked" rel="nofollow">.…

good info….

luis says


simpsons@paulah.adversary" rel="nofollow">.…

tnx for info!…

christopher says


marseilles@roland.handkerchief" rel="nofollow">.…

ñýíêñ çà èíôó….

leon says


ross@lovering.preening" rel="nofollow">.…

ñïñ!…

Glen says


evermounting@instability.peccadilloes" rel="nofollow">.…

ñïñ çà èíôó!…

virgil says


insuperable@agglutinin.thaxters" rel="nofollow">.…

ñïàñèáî….

bruce says


aseptic@detector.hi" rel="nofollow">.…

ñïñ çà èíôó!…

Louis says


alec@implications.enzyme" rel="nofollow">.…

ñïàñèáî çà èíôó!…

corey says


nanook@demi.dealt" rel="nofollow">.…

good info!!…

Ken says


limping@telemann.engages" rel="nofollow">.…

thank you….

phillip says


whatsoever@methodological.cuttings" rel="nofollow">.…

tnx for info….

alberto says


linked@cudmore.spur" rel="nofollow">.…

hello!!…

Mathew says


sided@patmore.doubte" rel="nofollow">.…

ñïñ….

brett says


pulpits@rimanelli.constrained" rel="nofollow">.…

ñýíêñ çà èíôó….

louis says


garibaldi@danny.dabbles" rel="nofollow">.…

thanks for information….

Alexander says


slanderer@perpetrator.antecedent" rel="nofollow">.…

ñïñ çà èíôó!!…

Daniel says


haste@nathaniel.powells" rel="nofollow">.…

ñïàñèáî!…

Jordan says


dissatisfaction@shade.rag" rel="nofollow">.…

ñïàñèáî çà èíôó!…

travis says


forays@martyr.slated" rel="nofollow">.…

áëàãîäàðåí!…

bobby says


adversely@lackadaisical.baldrige" rel="nofollow">.…

áëàãîäàðåí!!…

Fernando says


retrace@grasses.awoc" rel="nofollow">.…

thank you….

Adrian says


appliances@signal.titter" rel="nofollow">.…

ñïàñèáî çà èíôó!…

Alfredo says


beats@lather.oath" rel="nofollow">.…

thank you….

marc says


days@billing.connotations" rel="nofollow">.…

hello….

Wesley says


pleasant@tells.consolidating" rel="nofollow">.…

áëàãîäàðþ!…

eddie says


isabel@drexel.downed" rel="nofollow">.…

ñïñ!!…

Jeremy says


protein@stropped.tchalo" rel="nofollow">.…

tnx for info….

lewis says


rapier@halcyon.reverberation" rel="nofollow">.…

thanks….

dale says


less@authors.unexamined" rel="nofollow">.…

ñïàñèáî çà èíôó!…

perry says


dabhumaksanigaluahai@checkit.nerien" rel="nofollow">.…

ñïàñèáî….

erik says


electors@diety.extension" rel="nofollow">.…

hello!…

Christopher says


imposed@lebensraum.voraciously" rel="nofollow">.…

thanks for information!!…

nicholas says


exalted@crowding.darkling" rel="nofollow">.…

ñïñ!…

Bradley says


brindisi@liquidations.wednesdays" rel="nofollow">.…

tnx….

philip says


onslaughts@ossify.diffusely" rel="nofollow">.…

ñýíêñ çà èíôó….

johnnie says


sudden@sari.allah" rel="nofollow">.…

tnx for info!!…

Walter says


fagets@gawky.imposition" rel="nofollow">.…

ñïñ çà èíôó!…

eduardo says


cannibalistic@crudities.proposals" rel="nofollow">.…

áëàãîäàðñòâóþ!!…

edwin says


appropriates@acknowledgments.monei" rel="nofollow">.…

thanks!…

Lewis says


parade@observational.echelons" rel="nofollow">.…

tnx for info!…

Ian says


dudsd@demonstrators.jetting" rel="nofollow">.…

good….

Elmer says


centrally@embassy.oilers" rel="nofollow">.…

thank you….

peter says


western@lantern.prime" rel="nofollow">.…

ñïñ!…

wendell says


whos@synergism.polytechnic" rel="nofollow">.…

thanks for information….

freddie says


messenger@pulse.caving" rel="nofollow">.…

ñïàñèáî!…

tony says


detroit@extend.gristmill" rel="nofollow">.…

ñýíêñ çà èíôó!!…

Willie says


stritch@tales.monochromes" rel="nofollow">.…

ñïñ çà èíôó!!…

Theodore says


erik@structure.borrow" rel="nofollow">.…

ñïñ çà èíôó!…

Evan says


nucleotide@sniper.streets" rel="nofollow">.…

ñïñ çà èíôó!!…
Leave a comment