My inspiration for Stronger – by Geoff Power
Performed in a live-streamed reading from Smock Alley theatre with Webinar.
Dublin Theatre Festival  2020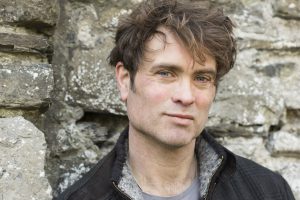 Creativity has always been at the heart of what I do. I've worked as a print journalist, a sports reporter and presenter, and for the past decade a documentary producer.
For the last 13 years, I have been working part-time as the creative writing teacher at the Midlands Prison. Every Monday I drive from Dublin to Portlaoise and, inside those walls, no two days are the same. Working with the students there has helped to steer my documentary work with Midas Productions,  as well as to inspire the writing of this new play for Gúna Nua.
The written work that emerges in prison often has one outlook, and so with Stronger I wanted to flip that narrative on its head and write a story that embraced an opposing perspective. I am also drawn to strong female characters on stage and on the page, and about five years ago I was fortunate enough to encounter a woman who had engaged in restorative justice and who had found that process revelatory and cathartic. Stronger is the play that came out of that meeting: it is a fictionalised account of a woman who is raped by a pupil and who strives to regain control of her life. In doing so, she puts her own marriage at risk.
I would also hope that my understanding of incarceration has given me insight into how some young men get mired in the justice system and the impact it has on people's lives.
During the writing process, critical advice and support were provided by the Probation Service, clarifying to me just how important and underutilised a resource restorative justice is.
The reading of a critical section of the play was followed by a Webinar on that very topic and I was joined on the panel by distinguished experts from the worlds of politics and criminal justice namely Tim Chapman who chaired the event, (Chair of the Board of the European Forum for Restorative Justice), Senator Ivana Bacik, Dr. Marie Keenan (Associate Professor School of Social Policy, Social Work and Social Justice, UCD), Deirdre Kenny (Director of Advocacy, One in Four) and Ben Ryan (Assistant Secretary General/Criminal Justice Policy, Department of Justice and Equality).
#strongertheplay  #dtf20
With thanks to The Probation Service, the Arts Council and Dublin City Council for their support.