Check out the places and the people Gúna Nua has worked with over the years:
Origin Theatre Company, New York City
Gúna Nua first co-production with Origin Theatre Company was CRESTFALL by Mark O'Rowe at the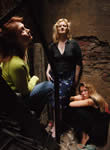 off-Broadway 59E59 Theatre in 2005.  CRESTFALL was one of just five plays to receive a starred listing (highly recommended) in the New York Times from critic Jason Zinoman, Friday Oct 14th 2005… "three stunningly written monologues with as much sex, violence and cruelty as 10 Quentin Tarantino films… [a] speeding train of a play staged with little fuss by George C Heslin…  It was almost as if Mr. O'Rowe had studied Samuel Beckett's chiseled prose and Martin McDonagh's outrageous violence…  O'Rowe presents something truly unexpected…a picture of pure innocence."
In October 2006 Gúna Nua partnered with Orgin Theatre Company again for the international debut of TROUSERS by Paul Meade and David Parnell.  TROUSERS was performed at the prestigious 59E59

Theatre in Manhattan.  Reviewer Jo Ann Rosen of NYTheatre.com wrote,"A THROUGHLY ENJOYABLE EVENING! Performed with precision and polish, Trousers offers a delightful, uninterrupted 80 minutes of professional theatre! Splendid performances by Gary Gregg and Daniel Freedom Stewart… the chemistry between the two is seamless"


In April 2008, Gúna Nua and Origin teamed up again with 7 New York based actors and theatre artist Cathy Ryan for a devising workshop to create a play with the working title "MELTDOWN".  The theater companies hope to present this new work in 2009.

To see more information about this theater, click here: http://www.origintheatre.org/upcoming.htm