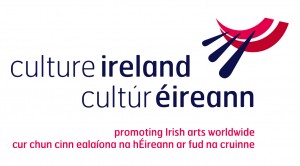 THE GÚNA NUA/CIVIC THEATRE PRODUCTION OF LITTLE GEM BYELAINE MURPHY HAS
TAKEN THE

CAROL TAMBOR BEST OF EDINBURGH AWARD

AT THE EDINBURGH FRINGE FESTIVAL 2009 FOR THEIR PRODUCTION OF LITTLE GEM BY ELAINE MURPHY.

LITTLE GEM sold out very quickly at the Festival and played to packed houses througout its run. It received an unbelievable number of four and five star reviews and praise for the talents of its cast, Anita Reeves, Hilda Fay and Sarah Greene with Anita Reeves nominated for Best Actress at the prestigious Stage Awards.
Elaine Murphy, the author, has been compared to Conor McPherson and Brian Friel for the power of her writing. LITTLE GEM is the first full-length play by this young Irish playwright. It is a year in the life of three generations of women whose adventures in love, sex, birth, death, and salsa classes enthrall and entertain audiences in a revealing, poignant and very funny play.
THIS IS THE FIRST IRISH PRODUCTION TO RECEIVE THIS AWARD EVER!
LITTLE GEM returns to Dublin for a limited run at The Civic Theatre from the 3rd to the 12th of September 2009. (Box Office 4627477)

This year, The Carol Tambor Theatrical Foundation has partnered with the Obie and Drama Desk Award-winning The Flea Theatre to present the winning production in New York in January 2010.

"The magic in Elaine Murphy's debut play lies in her truthful writing and the delivery by three extraordinary actors. Three female generations of the same Dublin family expose their messy, loving relationships-and the audience is drawn into their wonderful family," says Carol Tambor. "As Lyn Gardner said in her Guardian review: 'You just want to hug them.' Amen."

Eugene Downes, CEO of Culture Ireland who supported the production traveling to Edinburgh said: "For a new Irish play to win the most prestigious award at the world's largest arts festival is an extraordinary achievement for Elaine Murphy, for Gúna Nua and the outstanding cast of actors. It's striking evidence of Ireland's world-class success in the arts. This award opens the door to New York and Culture Ireland looks forward to working closely with the Carol Tambor Foundation to promote LITTLE GEM.'


Further press information & pictures contact John O'Brien at Gúna Nua
Tel: 086 817 7060 / Email: johnobrien@gunanua.com
Gúna Nua Theatre & Civic Theatre, Tallaght
present
LITTLE GEM
by Elaine Murphy
WINNER: CAROL TAMBOR BEST OF EDINBURGH AWARD – EDINBURGH FRINGE FESTIVAL 2009
Winner: Fishamble Award Best New Irish Writing, Dublin Fringe Festival 08
Winner: Best Female Performance, Dublin Fringe Festival 08
Winner: BBC Northern Ireland Drama Award in association with the Stewart Parker Trust
Nominated: Best New Play, Irish Times Theatre Awards
Nominated: Best Actress (Anita Reeves), Irish Times Theatre Awards
Nominated: Best Actress (Anita Reeves), The Stage Awards
Cast Anita Reeves, Hilda Fay and Sarah Greene
Set and Costume Designer Alice Butler
Lighting Designer Mark Galione
Sound Design Carl Kennedy
Directed by Paul Meade

"Hilarious- all three actors are superb" – The Sunday Times
"…an impressive debut, quite wonderfully acted by a perfectly-cast trio" – Sunday Independent

Written by Elaine Murphy, who makes her Irish theatre debut, this new and original play takes us on a wild and constantly surprising journey through the lives of three generations of Dublin women. A journey through love, death, disappointment and all of modern life's daily pressures, until one day they learn that the only people they can really trust and really rely on are each other.
The story introduces Amber, who has fierce bad indigestion and the Sambucas aren't getting rid of it. Lorraine, who attacks a customer at work and her boss wants her to see a psychiatrist. Kay, who's got an itch 'down there' that Gem can't scratch (but maybe Kermit can) and Paul, who is just using Amber until he can get to Australia… the hairy man fancies Lorraine but fails to rise to the occasion… and Gem doesn't like the neighbours coming in to 'mind' him!!! And if all that isn't bad enough, LITTLE GEM makes his presence fiercely felt and life is never the same again!

HERE'S WHAT THE CRITICS SAID
***** TIME OUT, LONDON "… this award-winning debut from Dublin writer Elaine Murphy is, delightfully, a tiny treasure. Murphy's trio of interwoven monologues from a daughter, mother and grandmother swept the board at the Dublin Fringe. And no wonder. Lippy teen Amber, her compulsively cleaning mother Lorraine and her enduringly optimistic Nan Kay are drawn beautifully – in comically spiked prose that pins them down with accuracy and compassion through a year full of trial and surprises.
… in many ways this show, which made me laugh and cry with pleasure, is like a really marvellous wake: it brings three generations together in an emotive booze-up of sorrow, precarious joy and inappropriate laughter.
… And it's rare to see fiction that acknowledges the effects of the loss of a sex-life on women caring for sick partners – and rarer still to see it acknowledged with wit and wisdom.
… But any woman out there facing down the barrel of marriage, childbirth or old age would be well advised to ditch the sambuca and come to 'Little Gem' instead. – Caroline McGinn
***** THE BRITISH THEATRE GUIDE "..Elaine Murphy has announced herself to be a female challenger to Conor McPherson whose writing can bear the comparison with the master of his art. Little Gem will undoubtedly travel the English speaking world, and as it does so will proclaim Elaine Murphy one of the most promising new playwrights around. Her cast and director can be proud and should also win their fair share of awards" –Philip Fisher
http://www.britishtheatreguide.info/otherresources/fringe/fringe09-21.htm#L
***** ALL THE FESTIVALS "the brilliance of the acting is bolstered by brilliant writing and wonderful jokes… this is an assured debut from Murphy: funny, heart-warming and acutely observed. Some of the best new theatre you'll see this year, guarantee."

http://allthefestivals.wordpress.com/2009/08/13/review-little-gem-traverse-theatre/
**** THE GUARDIAN " This is a play that, like its characters, gurgles and giggles with life even in the face of death. Murphy and her brilliant cast make us care about every breath these women take, and make you want to hug them" Lyn Gardner
http://www.guardian.co.uk/culture/2009/aug/09/edinburghfestival-theatre
THE SCOTSMAN "…Murphy delivers it with terrific conviction, and three stunning performances from Sarah Greene as Amber, Hilda Fay as Lorraine and the wonderful Anita Reeves as Kay"- Joyce McMillan
http://living.scotsman.com/festivals-2009/Theatre-review.5553778.jp
**** THE HERALD " …a sparky set of performances from Sarah Greene, Hilda Fay and Anita Reeves, whose final moments of acceptance, warms the heart even as you share her sadness" Neil Cooper
http://www.theherald.co.uk/features/features/display.var.2524629.0.A_dramatic_matter_of_life_and_death.php
**** THE TIMES "…blazing authenticity – and with the performances to back it up…Sarah Greene…Hilda Fay…Anita Reeves…are all terrific. We all, I fancy, left feeling just that little bit better about life" – Robert Dawson Scott
htp://entertainment.timesonline.co.uk/tol/arts_and_entertainment/specials/edinburgh/article6790329.ece
**** ONSTAGE SCOTLAND "… a refreshingly truthful voice…The performances are excellent. All three performers – Anita Reeves as Fay, Hilda Fay as Lorraine and Sara Greene as Amber – each presents a character that seems both truthful and real…Elaine Murphy has written a script that is complex without being complicated and poetic without being too flowery…This funny and poignant production is indeed a little gem" – Michael Cox
MUST SEE! THE STAGE "Vibrant….Anita Reeves goes well beyond the cliché…Hilda Fay creates a character who goes way beyond that which is on the page" Thom Dibdin
http://ed.thestage.co.uk/reviews/620
Gúna Nua and Civic Theatre