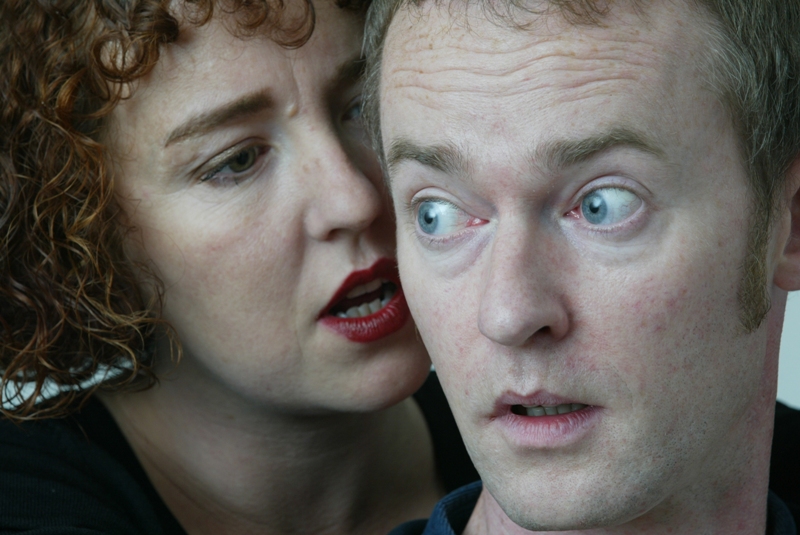 In Taste, Declan and Susan tell their dinner guests that life is 'going fantastically'. Beneath the surface, however, things are anything but 'fantastic'. Declan says, 'I was supposed to be charming and confident, but it was all an act. Still is really.' Declan and Susan are the modern day Macbeths. On a bus three old women tell Declan that he will achieve what he deserves and this, indeed, holds true. The couple, fuelled by Susan's ruthless ambition for her husband and herself, get what they ultimately deserve, but not without blood on their hands. In the metatheatricality of this play and its layering of time between present, past and 'somewhere else' attention is drawn to the relationship between performativity, theatre and our experience of everyday life.
Reviews:
" … accomplished and enjoyable … laid out with wit and dexterity in Parnell's text … Under Paul Meade's crisp direction, Peter Hanly and Karen Ardiff create vivid and eloquent performances." – Irish Times
" … gloriously, wickedly accurate …" – Sunday Independent
"Gúna Nua has always adhered to their principle that a good story well told is the best kind of theatre" – Irish Independent
Production Credits:
Directed by Paul Meade.
Set Design by Sinead O'Hanlon.
Lighting Design by Kevin McFadden.
Stage Manager, Sarah Lynch.
Produced by Donal Shiels.
Cast:
Karen Ardiff
Peter Hanly.
Andrews Lane Theatre, Dublin.