More Productions Coming Soon!
The Morning After the Life Before
Written and performed by Ann Blake
with Lucia Smyth
Directed by Paul Meade
The Everyman, Cork
Tuesday 24th and Wednesday 25th March 2020
"Superbly illuminating drama about love in our times" Irish Independent
Following its multi award winning international tour, the hugely acclaimed THE MORNING AFTER THE LIFE BEFORE makes its long awaited arrival at The Everyman Cork after successful
runs at the Bewley's Café Theatre and The Viking Theatre, Dublin in 2019.
A groggy Sunday morning, May 24th 2015 and 62% of Ireland is
#hungoverforequality, Ann gets a text from her brother: "How's the morning after the life before?"
Written in response to the 2015 marriage equality referendum and telling her own story of coming out late in life, Ann Blake bottles the magic of Ireland's overnight transformation into a safe place for the LGBTQ community in a politically shifting world. Both light-hearted and
playful, audiences can expect a personal, entertaining tale of weddings, coming out and arguments over who takes out the bins. Directed by award-winning director Paul Meade, the love story at the heart of the play has universal appeal. Audiences should prepare for music, cake and equality!
WINNER: Best Actress, Lucia Smyth Origin 1 st Irish Fest, New York 2019
WINNER: Best Director, Origin 1 st Irish Fest, New York 2019
WINNER: Outstanding Production, London Ontario Fringe 2017
WINNER: The Centaur Award: Best English Language Production, Montreal Fringe 2017
Appropriate
by Sarah Jane Scott
Written and performed by Sarah Jane Scott
Directed by Paul Meade
The New York Irish Center, 10-40 Jackson Avenue, Long Island City, New York
Monday 27th Jan to Saturday 1st Feb 2020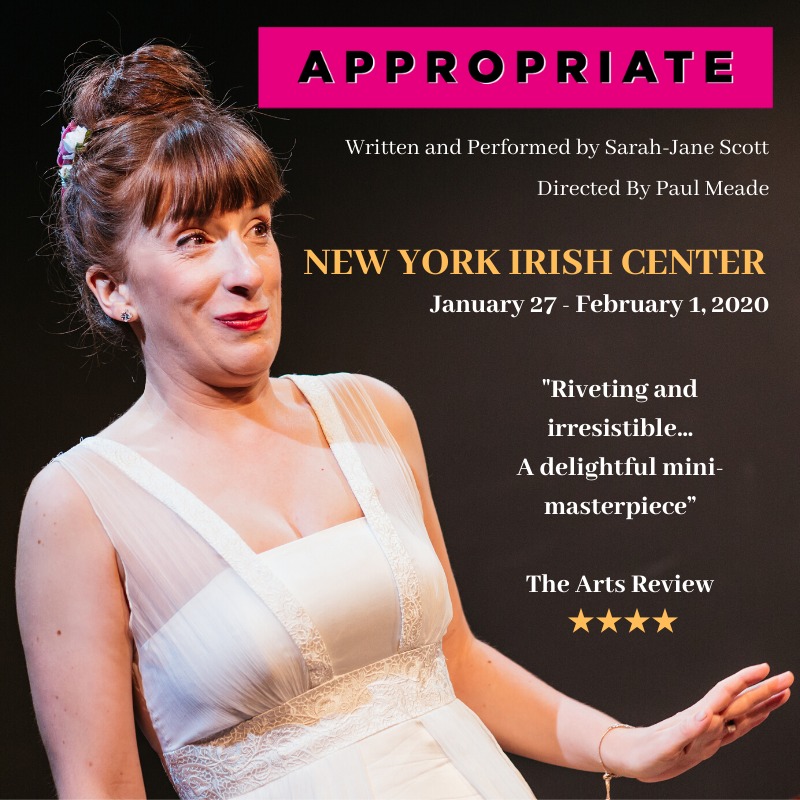 "Winningly tongue in cheek…In Sarah-Jane Scott's engrossing writing début, rituals of
marriage and conventions of small-town Irish life have been updated to accommodate
Instagram, but continue to grip tightly…an affecting solo." Irish Times ★★★★
Featuring in the Origin 1st Irish Theatre Festival in New York, Gúna Nua presents Sarah-Jane
Scott's acclaimed comedy "Appropriate," in its American premiere.  
Appropriate is a darkly comic tale of Sorcha; queen bee of her small West of Ireland town
and proud fiancé of ex-county hurling hero Marty. She LOVES weddings and has been
dreaming of her big day since forever and ever…However she has just fled her own
reception. Has she gone mad? Or is this the first moment of clarity she has had in years?
Perched on the edge of her 'perfectly planned' life, Sorcha is pure ragin' at the dawning
reality that she has never really listened to herself. Can she ever go back?
Appropriate is about tradition V modern life, our insatiable appetite for matrimony in
Ireland; the glamour, trials and tribulations of being a GAA 'widow', and also celebrates the
hilarious peculiarities of small town Irish life.
Winner of The Summerhall Lustrum award at Edinburgh Fringe 2019
Nominated for The Bewley's Little Gem Award at Dublin Fringe Festival 2018