The Unlucky Cabin Boy November Tour
Touring This November
In 1835 a ship sailed out of Limerick Docks with a cargo of emigrants bound for the New World. It never came back…
After playing four performances during the Limerick City of Culture 2014  (and receiving four standing ovations), Guna Nua will now tour this successful production to eight venues throughout Ireland this November.
The Unlucky Cabin Boy is a new play by award-winning playwright Mike Finn with music and lyrics David Blake of The Brad Pitt Light Orchestra. It tells the true story of the wreck of the Francis Spaight and the terrible acts of desperation that took place on board. Produced by the award-winning theatre company Gúna Nua and directed by Paul Meade, The Unlucky Cabin Boy was a highlight of Limerick City of Culture 2014. This chilling tale of hardship, sacrifice and survival is brought to life by music and song, performed live by The Brad Pitt Light Orchestra, and told with Gúna Nua's trademark humour and theatricality.
Tour Dates:
Lime Tree Theatre, Limerick:  4th, 5th, 6th, 7th  November
Black Box, Galway:  10th November
Civic Theatre Tallaght, Dublin:  13th, 14th November
Theatre Royal, Waterford:  16th November
Watergate, Kilkenny:  17t and 18th November
Draoicht, Dublin: 21st November
Siamsa Tire, Tralee:  25th November
Pavilion Theatre Dun Laoghaire, Dublin: 27th, 28th November
For more updates, follow our Unlucky Cabin Boy Facebook Page or Twitter Page.
Pondling Will Cross the Pond!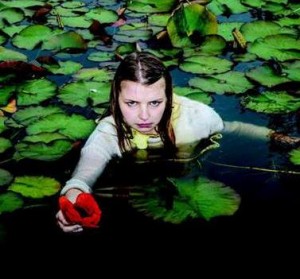 Pondling, after a very successful award-winning run at the Edinburgh Fringe Festival, as well as dates in London, Moscow, and Wales. Now, the show is being taken to New York, and premiering at 59e59 Theatre.
Show Dates
59e59 Theatre, New York
SEP 8, 2015 – OCT 4, 2015
Purchase tickets online at the 59e59 website.
…the play's great achievement is that we get to see beyond her vision to a lonely child who is,  despite the difficulties of her life, able to dream, imagine and hope.  - The Scotsman
Writer/performer Genevieve Hulme-Beaman is already a winner of a Stewart Parker Award and Best Female Performer at the Dublin Fringe for her highly original story of LOVE, beauty, chicken-chasing, daisy chains, cat-killing, French singing, dress-wearing, en suite bathrooms and a day at the pond.  Gúna Nua  and co-producers Ramblinman will tour Pondling nationally and internationally in 2015.
'A glittering gem of a show' – The Irish Times
'The imagination of a lonely little girl is a poignant thing – unless that lonely little girl is basically a psychotic.' **** – Irish Theatre Magazine
Hear the RTE radio drama of Pondling to get a taste of what's in store at PondlingRadio.
For more updates, follow our Pondling Twitter Page.
Time for Glunch Once Again!
This year we invite you to join us on 11th Sept in the Westin Hotel.
Come and help us raise the funds which literally allow us keep the doors open and the lights on so we can continue to generate great home grown theatre.

Tickets €100 and enquiries to www.gunanua.com or call 01 675 9921.
For more updates follow our Glunch 2015 Facebook Page