Faith
Jennifer O'Dea, Don Wycherly and Michael Glenn Murphy in 'Faith' by Paul Meade
"Who do you trust, when you can't trust yourself"?
On tour now we have a new play, Faith, written by our own Artistic Director Paul Meade and produced in association with Civic Theatre.
See the trailer here: http://youtu.be/fFQmQCRXapE
Faith tells the story of Michael, a man trying to cope with the stresses of redundancy and a new role as a stay at home husband. He meets a charismatic friend who gives him new hope and a new job, guarding an empty office block at night. They while away the hours with daredevil tricks, impromptu games of football and sorting out the meaning of life. But his new-found optimism and low-paid employment don't wash at home. He soon finds himself with a serious dilemma. The scene is set for confrontation between Michael's responsibilities at home and the survival of his sense of self, even his sanity. Darkly comic, Faith is an exploration of one man's struggle to find himself in post-boom Ireland.
This new production has opened at the Civic Theatre and tours nationwide.  Details and links for booking below:
Civic Theatre Tallaght 3rd-8th March  An Ghrianan Letterkenny 13th March
Mullingar Arts Centre 15th March   Pavilion Theatre Dun Laoghaire 19th March
Riverbank Arts Centre Newbridge 20th March   axis-ballymun 21st-22nd March
Roscommon Arts Centre 25th March  Droichead Arts Centre Drogheda 27th March
Mermaid Arts Centre 28th-29th March
Faith was devised in 2011 with Cathy Belton, Gerry McCann, Jennifer O'Dea and Michael Glenn Murphy, was commissioned by the Civic Theatre under the Artist in Residency scheme and received further script development support from Origin Theatre Company in New York City.
Pondling On Tour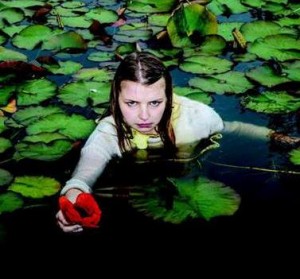 Gúna Nua in co-production with Ramblinman present Genevieve Hulme-Beaman's award-winning play 'Pondling' on tour this April.  Nominated for a Stewart Parker Award and winner of Best Female Performer at the Dublin Fringe Pondling is back to play 3 venues this April.  A story of LOVE, beauty, chicken-chasing, daisy chains, cat-killing, French singing, dress-wearing, en suite bathrooms and a day at the pond.
'A glittering gem of a show' – The Irish Times
'The imagination of a lonely little girl is a poignant thing – unless that lonely little girl is basically a psychotic.' **** – Irish Theatre Magazine
Smock Alley Theatre 31st March – 5th April
Mick Lally Theatre Galway 17th, 18th, 19th April
axis-Ballymun 24th-25th April