The Unlucky Cabin Boy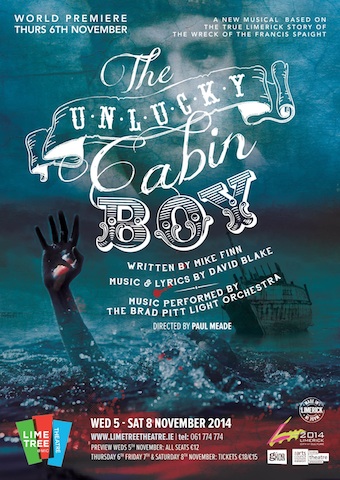 In 1835 a ship sailed out of Limerick Docks with a cargo of emigrants bound for the New World. It never came back…
After playing four performances at the Lime Tree Theatre in Limerick (and receiving four standing ovations), Guna Nua hopes to bring this show to more audiences around Ireland.
The Unlucky Cabin Boy is a new play by award-winning playwright Mike Finn with songs by Limerick band The Brad Pitt Light Orchestra. It tells the true story of the wreck of the Francis Spaight and the terrible acts of desperation that took place on board. Produced by the award-winning theatre company Gúna Nua and directed by Limerickman Paul Meade, The Unlucky Cabin Boy was a highlight of Limerick City of Culture 2014.
For more updates, follow our Unlucky Cabin Boy Facebook Page or Twitter Page.
A Million Thanks To Our FundIt Donors!
We at Guna Nua would like to massively thank the donors that made our FundIt campaign a triumph! Without you, The Unlucky Cabin Boy would not have have been the success it was!
ABLE BODY MATES – Nathalie Clement, Alan Ambrose, Lorna Quinn, Pauline Shanahan, Karen O'Donnell O'Connor, Michael Barrett, Carmel Meade, Gary Duggan, Aoife Spillane Hinks, Hanneke de Vos, Susannah de Wrixon, J Gerard O'Donovan
FIRST MATES – Emmet Jackson, Dorothy Cotter, Tara Furlong, Deirdre Parkes, Eoin Meade, Fiona Linnane, Gerard Meade, Fergal Rock, Maria Donoghue, Thomas Conway, Gavin O'Donoghue, Rachel Yoder, Niamh Vaughan, Nola Giltinan, Diarmuid McIntyre, Sylvie Mci, Simon Coury, Leonard Kelly, Mairead Devlin
ABLE SEAMEN – Ryan Meade, Aisling Meade, Cillian O Gairbhi, Maire Ui Ghairbhi, Joshua Wrigley, Eugene McGrath, Bob Duffy, Cormac Gahan, Carolina Janer, Karl Wallis
MASTER MARINERS – Eadaoin Glynn, Liam Meade, Noirin Meade, Carmel Gunn, Eileen Sheridan, Alan Wrigley, John Breen, Oonagh Sweeny, Clare Meade, Ursula and Barney Callaghan, Donal Shiels, Myles Breen
LIEUTENANT – Joseph O'Dea
Pondling Will Cross the Pond!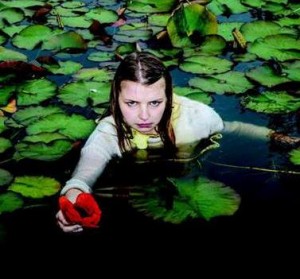 Pondling, after a very successful award-winning run at the Edinburgh Fringe Festival, played to London audiences at the Southbank Centre. There are plans afoot to take this show even further, so stay tuned for that news!
…the play's great achievement is that we get to see beyond her vision to a lonely child who is,  despite the difficulties of her life, able to dream, imagine and hope.  - The Scotsman
Writer/performer Genevieve Hulme-Beaman is already a winner of a Stewart Parker Award and Best Female Performer at the Dublin Fringe for her highly original story of LOVE, beauty, chicken-chasing, daisy chains, cat-killing, French singing, dress-wearing, en suite bathrooms and a day at the pond.  Gúna Nua  and co-producers Ramblinman will tour Pondling nationally and internationally in 2015.
'A glittering gem of a show' – The Irish Times
'The imagination of a lonely little girl is a poignant thing – unless that lonely little girl is basically a psychotic.' **** – Irish Theatre Magazine
Hear the RTE radio drama of Pondling to get a taste of what's in store at PondlingRadio.
For more updates, follow our Pondling Twitter Page.