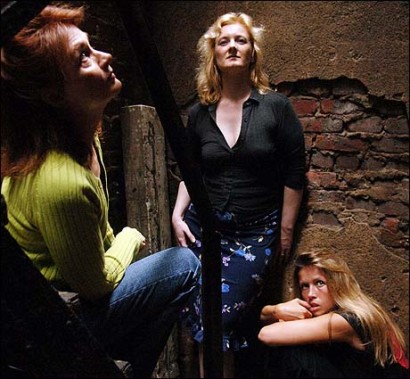 '…three stunningly written monologues … ' – The New York Times. 
In association with Origin Theatre Company New York.
Gúna Nua teamed up with Origin Theatre Company and director George C. Heslin to produce the American premiere of this stunning play by one of Gúna Nua's favourite Irish Writers. Crestfall is three monologues for women and together they tell the tale of a savage town and the desperate women who inhabit it. O'Rowe pushes his characters to the limit only to redeem us all at the end with a beautifully poetic image of innocence. Crestfall played at the 59E59 Theatres in New York.
'…three stunningly written monologues with as much sex, violence and cruelty as 10 Quentin Tarantino films … it was almost as if Mr. O'Rowe had studied Samuel Beckett's chiseled prose and Martin McDonagh's outrageous violence and then tried to best them.' – The New York Times
Production Team
Directed by George C. Heslin.
Set Design by Lex Liang.
Costumes by Elizabeth Flauto.
Sound Design by Zachary Williamson.
Cast
Fiana Toibín
Barbara J. Spence
Mari Howells.