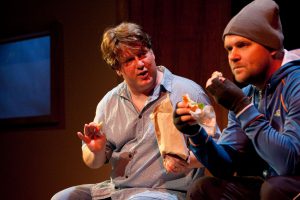 "A sharply contemporary tragi-comedy… Meltdown is [an] intelligent, funny compassionate comment on our national mess, with cracking dialogue, terrific direction (even more terrific movement direction…) and four walloping performances…"
– Emer O'Kelly, Sunday Independent
"Sex in the City for men…very very funny…a play for today…it warms your heart"
– Arena -RTÉ 1
Meltdown…a comedy of survival
What do you do when your marriage breaks down, your job vanishes, your investment turns into debt and your team can't get off the bottom of the league? What else can you do but rely on the old friendships, smoke a good cigar and play the beautiful game. Four life-long friends dance their way through a season of relegation battles, marital disharmony and global economic collapse.
A tale of friendship, football and financial insolvency.
First performed as part of the 2009 Absolut Dublin Fringe Festival. It opened at the Axis Ballymun, and subsequently played at The Project Arts Centre and The Civic Theatre Tallaght. Produced by Gúna Nua theatre in association with Axis Ballymun.
Original Cast
Neil – Laurence Lowry
Michael – Gerry McCann
Sean – Karl Shiels
Brian – Enda Kilroy
Production Team
Director – Paul Meade
Designer – Alice Butler
Lighting Designer – Mark Galione
Movement Director – Cathy Ryan
Sound Designer – Aengus Ó Maoláin
Music Composition – Carl Kennedy
Production Manager – John O'Brien
Production Manager – Mark Galione
Stage Director – Miriam Duffy
Assistant Stage Manager – Faye Morrison
Set Construction – Kevin Courtney
Graphic Design – Kieran Brennan
Photography – Dermot Kelly and Futoshi Sakauchi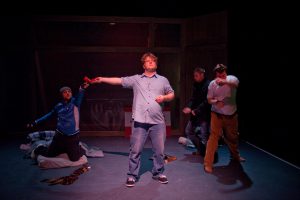 Funded by The Arts Council and Dublin City Council.