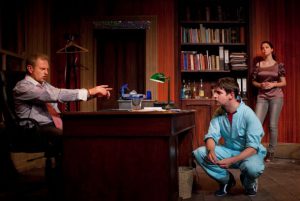 "Every diamond's a blood diamond, isn't it? And tonight will be a night of diamonds…. tonight will sparkle"
CHICANE – The thriller from Anthony Brophy.  World Premiere production presented by Gúna Nua in September 2010.
"Chicane spins along with breathtaking imaginative verve…a comedy thriller with more twists and turns than the average Irish secondary road" – Irish Independent
"All actors deliver with bite and fearlessness…a slick and ballsy script crashes its audience into the middle of a charged comedic thriller…Another riveting achievement for Gúna Nua and The Civic" – Le Cool
CHICANE
Robert's had a long day at the office he's been watching the clock for the last hour. He's winding up on his last phone call of the day when Ray, the cleaner, shows up. But it's the wrong day for Ray to clean the office.
Ray has a lot of things on his mind but letting Robert go home isn't one of them. He's got a whole evening planned, including party games and special surprise guests. Before two hours have elapsed both men will understand how their pasts and futures are horribly intertwined, and no one who enters that office will think, or feel or be the same person again. 'Because tonight…TONIGHT'S GOIN' TO BE ABOUT DIAMONDS.'
Chicane is packed with suspense, action and deceit; a diamond edged thriller that treads a tightrope of revenge and redemption; a who-done-it with surprises lurking around every corner, a darkly comic, multi-faceted, tale of of love and loyalty.
CHICANE – starring  Barry Barnes, Emmet Kirwarn and Jane McGrath
DIRECTED By Paul Meade
DESIGNED By Owen McCarthaigh
COSTUMES by Tania Persechini
LIGHTING DESIGN By Mark Galione
SOUND DESIGN by Jack Cawley
A Civic Theatre/Gúna Nua Production in Association with Draíocht Arts Centre, The Everyman Palace, and The Belltable Arts Centre.
CHICANE chi·cane [shi-keyn, chi-] Show IPA noun, verb, -caned, -can·ing. –noun 1. deception; chicanery –verb (used with object) 2 to trick by chicanery. 3 to quibble over, cavil at. Origin: 1665–75; < F chicane (n.), chicaner (v.), perh. < MLG schikken to arrange