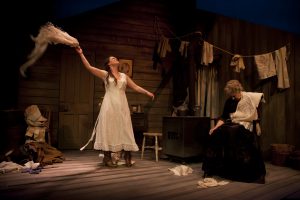 The Goddess of Liberty by Irish actor and novelist Karen Ardiff was commissioned by Gúna Nua in 2010 with dramaturgical support from Fishamble Theatre's New Play Clinic.  Produced in association with the Civic Theatre, it opened in the Project Arts Centre in January 2012 and played at The Civic Theatre, Tallaght and the Belltable,  Limerick.
The Goddess of Liberty tells the story of two Irish immigrants and their adventures in Alaska during the Gold Rush.  The Goddess of Liberty is the picaresque journey of the women from a famine ship, through the American civil war to the Gold Rush and the Klondike.  Set in an archetypal boom-bust town, The Goddess of Liberty is by turns hilarious, moving and heart-breaking.
Following its runs in Ireland The Goddess of Liberty was performed in 2014 in London's Arcola theatre, produced by KTR productions and directed by Russell Bolam in association with Gúna Nua.
Original Cast
Geraldine Plunkett – Frankie
Emma Colohan – T-Belle
Máire Ní Ghráinne – May
Megan Riordan – Nellie the Pig
Production Team
Paul Meade – Director
Maree Kearns – Set Designer
Mark Galione – Lighting Designer
Brid Dukes – Producer
Joan O'Clery – Costume Designer
Carl Kennedy – Sound Designer
Marella Boschi – Stage Director
Bridget Hanly – Assistant Stage Manager
Vance Wing-Sze Lau – Assistant Stage Manager
Futoshi Sakauchi – Production photography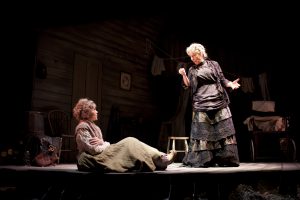 Thank you to all our funders who made the production of The Goddess of Liberty possible:
Emily Amick, Aisling Ardiff, Deborah Aydon, Dawn Bradfield, John Breen, Garry Burke, Simon Carswell, Breda Cashe, Emily Chamberlin, Claus Christensen, Stephanie Courtney, Tom Creed, Aidan Crowe, Bernie Curran, Peter Daly, Kathryn D'arcy, Darragh Doyle, Frank Doyle, Felix Dunning, Joshua Edelman, Mike Edgeworth, Paul Fahy, Johnny Ferguson, Padraig Francis, Tara Furlong, Jack Gilligan, Bridget Hanley, Ben Hennessy, Maria Hynes, JD Kelleher, Eoin Kilkenny, Aisling Meade, Carmel Meade, Daniel Meade, Eoin Meade, Liam Meade, Noirín Meade, Richard Meade, Ryan Meade, Eleanor Methven, Deirdre Molloy, Pat Moylan, Derick Mulvey, Martin Munroe, John Murray, Liz Nugent, Clare O'Dea, Joseph O'Dea, Jennifer Parsons, Nik Quaife, Gavin Quinn, Michelle Read, Pauline Shanahan, Tom Swift, Marie Taylor Ghent, Yvonne Ussher,  Hanneke de Vos, Ali White, Cathy White, Claudia Woolgar Nauwels, Rachel Yoder.
Thank you to all our sponsors: