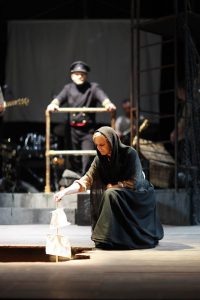 The smash hit of Limerick City of Culture 2014 was The Unlucky Cabin Boy by Mike Finn. With music and lyrics by David Blake, this musical tells the true story of a ship that sailed out of Limerick Docks in 1835 but never came back. With its cargo of emigrants bound for the New World  the demise of the Francis Spaight became legendary in Limerick for the terrible acts of desperation that took place on board.
This chilling tale of hardship, sacrifice and survival was brought to life with a stunning musical score and songs performed by the popular Limerick band The Brad Pitt Light Orchestra and told with Gúna Nua's trademark humour and theatricality.  Produced by Gúna Nua theatre in association with Verdant Productions.
It opened at the Lime Tree theatre, Limerick in November 2014 and went on to tour nationally in 2015 playing at Black Box, Galway; Civic Theatre Tallaght, County Dublin; Theatre Royal, Waterford;  Watergate, Kilkenny;  Draiocht, Dublin; Siamsa Tire, Tralee;  Pavilion Dun Laoghaire, Dublin.
'The ensemble moments, when the entire cast – including the band – sing as one, are profoundly affecting and moving, and make for one of the most unique theatrical experiences this writer has witnessed.' – Limerick Leader
'Historical accuracies animate more than instruct in Mike Finn's wonderful book.' – Musings at Intermissions.
Stephen O'Leary gives a charming performance as Patrick, an innocent with a pinch of gumption, who torments the conscience of Enda Kilroy's admirably gruff Captain Gorman ("Did I struggle much? Was there much blood") – Irish Times
Production Team
Writer – Mike Finn
Music and Lyrics – David Blake
Director – Paul Meade
Live Music – The Brad Pitt Light Orchestra
Set Design – Colm McNally
Sound Design – John Galvin
Costume Design – Barbara McCarthy
Musical Director – Cathal Synott
Movement Director – Angie Smallis
Fight Director – Donal O'Farrell
Producer – Donal Shiels
Original Cast
Ann Blake
David Blake
James Blake
Damien Devaney
Peter Joyce
Enda Kilroy
Jamie O'Neill
Kevin Shackleton
Stephen O'Leary (touring cast)
Susannah De Wrixon
Featuring The Laurel Hill School Choir directed by Orla Colgan
Thank you To Our FundIt Donors
A massive thank you to the donors that made our FundIt campaign a success and helped to make the production of The Unlucky Cabin Boy possible.
ABLE BODY MATES – Nathalie Clement, Alan Ambrose, Lorna Quinn, Pauline Shanahan, Karen O'Donnell O'Connor, Michael Barrett, Carmel Meade, Gary Duggan, Aoife Spillane Hinks, Hanneke de Vos, Susannah de Wrixon, J Gerard O'Donovan
FIRST MATES – Emmet Jackson, Dorothy Cotter, Tara Furlong, Deirdre Parkes, Eoin Meade, Fiona Linnane, Gerard Meade, Fergal Rock, Maria Donoghue, Thomas Conway, Gavin O'Donoghue, Rachel Yoder, Niamh Vaughan, Nola Giltinan, Diarmuid McIntyre, Sylvie McI, Simon Coury, Leonard Kelly, Mairead Devlin
ABLE SEAMEN – Ryan Meade, Aisling Meade, Cillian O Gairbhi, Maire Ui Ghairbhi, Joshua Wrigley, Eugene McGrath, Bob Duffy, Cormac Gahan, Carolina Janer, Karl Wallis
MASTER MARINERS – Eadaoin Glynn, Liam Meade, Noirin Meade, Carmel Gunn, Eileen Sheridan, Alan Wrigley, John Breen, Oonagh Sweeny, Clare Meade, Ursula and Barney Callaghan, Donal Shiels, Myles Breen
LIEUTENANT – Joseph O'Dea
Funded by The Arts Council of Ireland, Limerick City of Culture and Limerick City and County Council Arts Office.