IN MAY 2010 Gúna Nua presented Shay and Aisling's Stories in the Focus Ireland café in Temple Bar.
The shows – written by Gerry McCann and Jennifer O'Dea – were based on work they had done with Focus Ireland's clients i.e people who were or had recently experienced homelessness. The audience in the Focus Ireland café was composed mainly of people who were, or had recently experienced homelessness. The impact was extraordinary:

"I seen it as the way my life was, it was like putting it your own way."
"These few days brought it home. More valuable than a million leaflets."
"I wasn't gonna get involved. I was on a real low but I just thought it was fantastic. You didn't feel like a bloody fool, with good actors to carry you through it. I was feeling good after it and looking forward to the next day."
–clients of Focus Ireland
Shay and Aisling's Story – City Channel from Guna Nua on Vimeo.
Gúna Nua and Focus Ireland want to respond to the demand from the people who experienced these shows for more: for more performances, for training, for the chance to explore more aspects of their experience and develop more strategies for survival.
The first step we took was to present Shay and Aisling's Stories again in February/March 2011 at hostels throughout Dublin and across the country.
WHY ARE WE DOING THIS AND WHY WOULD YOU WANT TO SUPPORT IT?

The project is based on Gúna Nua's belief that theatre is for everybody, that it is practical, and that it can stimulate real change. If theatre cannot meet these criteria then what is it for?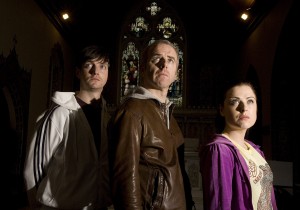 Written by Gúna Nua regulars Jennifer O'Dea and Gerry McCann, both scripts have been developed through meetings with clients and staff of Focus Ireland. Aisling centers on a seventeen year old who becomes pregnant and has nowhere to stay. Shay is the story of a heroin user who finds love.

"The really special thing . . . is that members of the audience are encouraged to intervene to stop a situation where the main protagonist is being oppressed . . . the audience will have the power to use their own experience to change the original negative endings of the play into a positive outcome . . . This will encourage people to reflect on their own experiences and can result . . . in the development of some practical strategies for change."
–Gerry McCann
"Focus Ireland works to help people to overcome homelessness and to prevent many more from ever becoming homeless in the first place.  A major part of this work is the provision of housing and key support services. . . . we always remember (that) people who are homeless are the same as everyone else, it's just they have gone through a tough time . . . Projects such as this support people to get involved . . . and acts as a channel to voice their opinions and this leads to empowerment . . . it's also been a very enjoyable project for everyone to work on."
–Deirdre Connolly
About Forum Theatre
SHAY AND AISLING'S STORIES was a a Forum Theatre Project. Gerry and Jennifer trained with Cardboard Citizens in London and the the first stage of the project was part funded by Create Ireland, the national development agency for collaborative arts. Forum Theatre was developed by Brazilian writer and politician Augusto Boal as part of what he called 'The Theatre of the Oppressed.' Actors perform a short play. The audience then suggests different actions for the actors to carry out, or they can join in the performance, becoming 'spect-actors'; active rather than passive. The play is performed again, with the actors improvising to resolutely achieve the original outcome but the audience aiming to change this.

Forum Theatre is always based on the real life experiences of a particular group of people, with story and characterization being key. These are also the people who form the audience and with the MC, or 'Joker', discuss and develop new outcomes. Forum Theatre is about transformation.

About Focus Ireland
Focus Ireland works to prevent people becoming, remaining or returning to homelessness through the provision of quality services, supported housing and advocacy. Founded in 1985 by Life President Sr. Stanislaus Kennedy, we work with young people, single adults and families and believe that everyone has a right to a place called home which is safe, secure and appropriate to their needs. Focus Ireland worked with over 5,500 people through its services last year to prevent many vulnerable families and single people from becoming homeless in the first place and also supporting many others to successfully find a route out of homelessness.  The housing and homeless charity has supported 1,100 households to secure a home since 2005 through its housing programmes and support services work.

There are up to 5,000 people who are homeless in Ireland at any one time.  The majority of people stay in emergency accommodation including hostels and B&Bs while a small number of people sleep rough on the streets.