Little Gem
By Elaine Murphy
Starring Anita Reeves, Hilda Fay, Sarah Greene; Designed by Alice Butler; Lighting Design by Mark Galione; Sound Design by Carl Kennedy; Directed by Paul Meade. A Gúna Nua/Civic Theatre Production.
WINNER: Fishamble Award for Best New Irish Writing – Dublin Fringe Festival 2008
WINNER: Best Female Performance – Dublin Fringe Festival 2008
WINNER: The Carol Tambor Best of Edinburgh Award – Edinburgh Fringe Festival 2009
WINNER: BBC Northern Ireland Drama Award in association with the Stewart Parker Trust
Nominated: Best New Play, Irish Times Theatre Awards
Nominated: Best Actress (Anita Reeves), Irish Times Theatre Awards
Nominated: Best Actress (Anita Reeves), The Stage Awards
This stunning debut theater piece premiered at Dublin's 2008 Fringe Festival, September 9th-13th in Project Cube, before transferring to The Loose End Studio at the Civic Theatre, Tallaght.

LITTLE GEM. Photographs by Futoshi Sakauchi
Our festival show, LITTLE GEM, by Elaine Murphy and co-produced with the Civic Theatre, played to sold-out houses in both Project and in the Civic during the Dublin Fringe Festival. The show also took two awards at the Fringe: The Fishamble Award for Best New Irish Writing and the Award for Best Female Performance. This last award was, by a special decision of the judges, granted to all the members of the cast equally – Anita Reeves, Hilda Fay and Aoife Duffin. A wise decision as it really was a spectacular ensemble effort.
Amber has fierce bad indigestion and the Sambuca's aren't getting rid of it… Lorraine attacks a customer at work and her boss wants her to see a psychiatrist… Kay's got an itch 'down there' that Gem can't scratch…but maybe Kermit can… Paul – the bollix – uses Amber as just a 'handy hole' until he can get to Australia… The hairy man fancies Lorraine but fails to rise to the occasion… And Gem doesn't like the neighbours coming in to 'mind' him. And if all that isn't bad enough, little Gem makes his presence felt and… well… life is never the same again!
LITTLE GEM was a huge success, with awards, reviewers and – most importantly – with audiences. It played to packed houses for the full three weeks of the Fringe Festival. The show returned to the Civic Mainstage and then to Draiocht in Blanchardstown in March 2009.
LITTLE GEM WINS THE CAROL TAMBOR BEST OF EDINBURGH AWARD 2009
LITTLE GEM sold out very quickly at the Festival and played to packed houses throughout its run. It received an unbelievable number of four and five star reviews and praise for the talents of its cast, Anita Reeves, Hilda Fay and Sarah Greene, with Anita Reeves nominated for Best Actress at the prestigious Stage Awards.
Elaine Murphy, the author, has been compared to Conor McPherson and Brian Friel for the power of her writing. LITTLE GEM is the first full-length play by this young Irish playwright. It is a year in the life of three generations of women whose adventures in love, sex, birth, death, and salsa classes enthrall and entertain audiences in a revealing, poignant and very funny play.
THIS IS THE FIRST IRISH PRODUCTION TO RECEIVE THIS AWARD EVER!
LITTLE GEM returned to Dublin for a limited run at The Civic Theatre from the 3rd to the 12th of September 2009.
LITTLE GEM IN 2011
GÚNA NUA'S HIT LITTLE GEM IN AUSTRALIA AND TOURING IRELAND!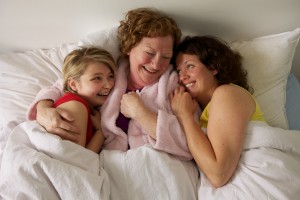 Back by popular demand this award winning show continued its national and international tour.
"…as hilarious as it is poignant" – THE SUNDAY TIMES
"…intimately told and beautifully acted" – THE NEW YORK TIMES
" ***** …a tiny treasure…" – TIME OUT, LONDON
"…impressive" – SUNDAY INDEPENDENT
2011 TOUR INFORMATION
10th-16th February – Civic Theatre
22nd-26th February – Riverside Theatre, Paramatta (Australia)
1st-5th March – Playhouse, Canberra Theatre Centre
11th-12th March – Theatre Royal, Hobart
15th-19th March – Everest Theatre, Seymour Centre, Sydney
4th-9th April – Olympia Theatre, Dublin
PRODUCTION HISTORY
LITTLE GEM premiered at the 2008 Dublin Fringe Festival and it was an immediate sell-out success. It received the Dublin Fringe Festival/Fishamble Best New Play and Best Female Performance Awards (awarded to the entire cast) and was subsequently nominated for Best Play and Best Actress (Anita Reeves) at the Irish Times Theatre Awards.
Little Gem was subsequently awarded the BBC Northern Ireland Drama Award (Stewart Parker Trust Annual Awards). It premiered in the UK at Traverse Theatre, Edinburgh as part of the Edinburgh Fringe Festival 2009. The show sold out early in the run and was awarded the Carol Tambor Best of Edinburgh Award. On returning to Dublin it won the Best Theatre Script awarded by the Irish Playwrights and Screenwriters Guild.
The show premiered in the US at The Flea Theatre, New York on January 5th 2010 as part of the Carol Tambor Best of Edinburgh Award. The show then opened in the Peacock on January 19th and was sold out within two weeks. In March, 2010 the show opened at the Bush Theatre in London where it ran for 7 weeks before touring to Paris and back to Ireland for a 2-week run at the Everyman Palace in Cork. After its run at The Olympia the play will tour Ireland and the UK before heading down under for a 2-month tour of Australia.