An interactive workshop that gives Leaving Certificate students the opportunity to observe and discuss key scenes of Shakespeare's plays with working professionals.
Gúna Nua is delighted to be continuing this exciting project, developed originally by the Storytellers Theatre Company.  Shakespeare in Rehearsals has been tried and tested over several years and it is a real pleasure to make it available again.
'Absolutely excellent, very beneficial. The interaction between the kids and the actors was fantastic.' – Niamh Colleran, Glenamaddy Community School.
'The performance this morning was amazing … I know the other teachers will be interested in booking … ' Siobhan McGlynn, Marian College, Dublin.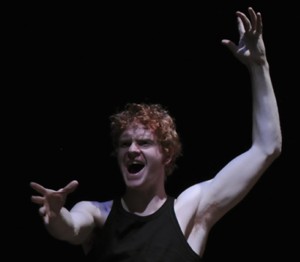 Workshop Content
Engagement with the students is our principle concern. Three professional actors will come to your school and replicate a rehearsal room atmosphere, using either Romeo and Juliet or Macbeth as the text at hand. Our aim is to focus on the language, making it accessible to a modern audience. We achieve this through performance, reminding ourselves at all times that William Shakespeare was primarily a working professional actor and writer.
Students will be invited to observe key scenes from Romeo and Juliet or Macbeth that are 'works-in-progress.' They will be introduced to the language structure, character interpretation and scene work. Elements such as the given circumstances, character motivation, possible social and political contexts, and the challenges of the text for present day actors will be examined. Students are encouraged to ask questions and make suggestions, which the actors will take on the board and replay the scene accordingly.
Each workshop is limited to 100 students, and is 90 minutes in length. We present in the morning or afternoon, at whatever time is suitable for the school. Workshops are available through the autumn term. There are no technical requirements other than an appropriate open space, e.g. a school hall, a gym, or a large classroom. The program cost is €500 and is available for autumn 2011.
To Contact:
Paul Meade
Gúna Nua Theatre
Arts and Business Campus
40 Drumcondra Road Lower
Drumcondra
Dublin 9
pmeade@gunanua.com