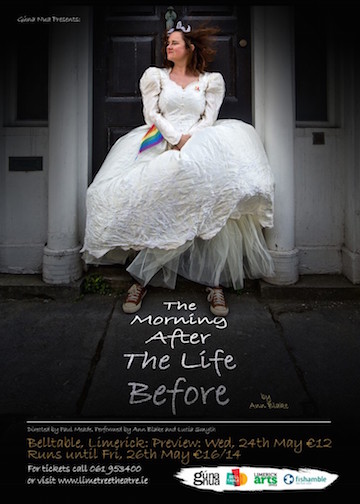 Gúna Nua has been proud to present The Morning After The life Before by Ann Blake. It played in Belltable, Limerick May 24th – 26th, Friar's Gate, Kilmallock May 27th, the London Ontario Fringe Festival's The Arts Project June 2nd – 8th, and in Festival St. Ambroise Montreal's Black Theatre Workshop Studio on June 11th – 17th.
On a groggy Sunday morning, May 24th 2015, as 62% of Ireland is #hungoverforequality, Ann gets a text from her brother which brings the reality of a new Ireland into sharp focus. "How's the morning after the life before?"
A personal tale and experience of Ireland before and after the referendum on Marriage Equality on May 22nd 2015, The Morning After The Life Before explores and attempts to answer the question in the text message.
With kind support from Limerick Arts Office Theatre Bursary and Fishamble's New Play Clinic.
The proud winner of Outstanding Production at the London Ontario Fringe and of Best Enlgish Language Production at Montreal Fringe.
"Blake's extreme vulnerability in front of the audience goes a long way… an absolute cannot-miss" –Montreal Theatre Hub Fringe
"Ann Blake and her acting partner (not life partner) Lucia Smyth are fantastic in this polished piece… this show always managed to stay at perfect pitch. Funny, warm, funny, intimate." –Montreal Fringe Festival
"It's one of the finest examples of Fringe theatre I've seen." –Theater In London