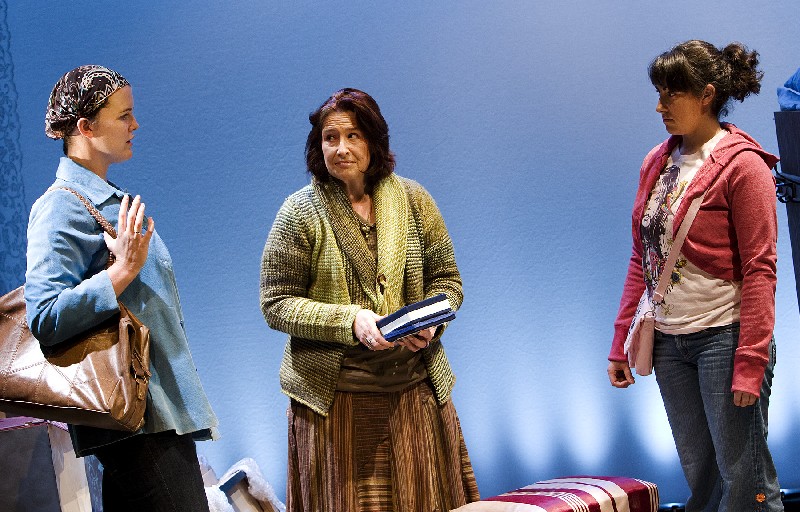 "…three outstanding performances…glowingly touching and truthful, deeply gentle and lovely.." – Sunday Independent
"****" – Metro
"Elegant in it's construction and touching in its effect" – The Irish Times
The touching – and frequently hilarious – story of three women whose lives are touched by breast cancer.
Rose is thirty-four and lives on a farm with her husband and two children. She worries she may have married too young. Lola is fifty and wants to sell her home. Nobody ever calls and she has stopped opening her post. Lyndsey is eleven and her best friend has stopped sitting beside her in art class.
When breast cancer touches their lives, everything starts to unravel – Rose's marriage falls apart, Lola gets arrested and Lyndsey hides a cooked ham in a thorn bush.
UNRAVELLING THE RIBBON started when Mary Kelly and Maureen White – otherwise known as Plan B Productions – secured a small grant from the Arts Council allowing them to travel around the country and meet with a great many women either recovering from Breast Cancer or undergoing treatment for it. Out of these many conversations, their own experiences and imaginations, they crafted the first draft of the show. Then together, with Gúna Nua as production partner, Action Breast Cancer and Avon came in behind the project. The show premiered in Project Arts Centre, Dublin.
Because of the intimate connection between the characters of the play and the real life experiences of so many women captured in the development process the show is now almost legendary in its ability to connect with its audience.
Credits:
Original production presented in Association with Action Breast Cancer (a programme of The Irish Cancer Society) and proudly Sponsored by Avon's Breast Cancer Crusade. Directed by Maureen White.  Set & Costume Design by Liz Cullinane, Lighting Design by Tina MacHugh, Music & Sound Design by Denis Clohessy and Carl Kennedy.  Stage Director Miriam Duffy. Stage Manager Petra Hjortsberg. Production Interns Shannon Klousia & Kendall Sherwood.  Production Manager Bianca Moore.  Producer David Parnell. CAST: Mary Kelly, Eleanor Methven and Georgina Miller.  Project Arts Centre, Dublin.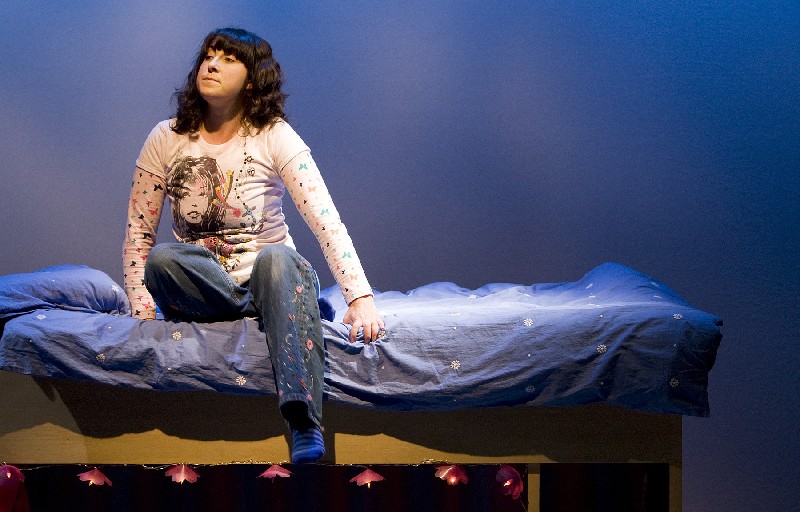 NATIONAL TOUR 2008
Starring Ruth Hegarty, Jennifer Laverty and Janet Moran; designed by Liz Cullinane, Lighting Design by Eamon Fox; Sound Design by Denis Clohessy and Carl Kennedy, directed by Maureen White. Produced in Association with Plan B and Action Breast Cancer Sponsored by BreastCheck.
The show was out on tour from September 15th to October 11th 2008, as part of Breast Cancer Awareness Month, playing a whole range of venues – from the grandeur of the Everyman Palace in Cork to the Spafield Family Resource Centre in Cashel. Action Breast Cancer had a very precise target: they wanted women from specific social groups to experience this show, namely Older Women, Women from the Travelling Community, Women of a non-Irish Origin, and Women from Lower Socio-Economic groups. We worked closely with a range of support and community groups throughout the country to find the right venues for the show and to reach these target audiences. It was hard work but very, very rewarding and we need to say thank you to all the people who supported this project at community level.
Tour Venues:
THE EVERYMAN PALACE, CORK; THE WATERGATE, KILKENNY; THE EIRE OG GAA CLUB, CARLOW;  CLANE GAA CLUB;  THE CHURCH OF IRELAND HALL, ATHY; GARTER LANE ARTS CENTRE, WATERFORD; THE TEMPERANCE HALL, LONGFORD, THE ROSCOMMON ARTS CENTRE; THE DEAN CROWE THEATRE, ATHLONE; ST. JOHN'S, LISTOWEL; RED CROSS HALL LIMERICK; THE SOURCE ARTS CENTRE, THURLES; and THE SPAFIELD FAMILY RESOURCE CENTRE in CASHEL.
The response from the audience was overwhelming, with standing ovations at nearly every performance, and audience members eager to talk to the cast about their experience. Action Breast Cancer and BreastCheck had staff at every venue to answer any questions or concerns members of the audience may have had, and in several venues they facilitated intensive post show discussions.
ALLIANZ Business to Arts Award Nominee 2008,
Social (Cultural) Responsibility Award