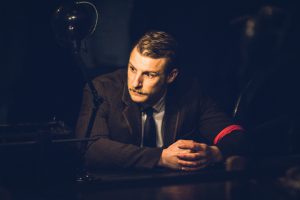 Gúna Nua's smash hit play Bread Not Profits won the Irish Times Audience Choice award in 2019.  The ceremony was due to take place at the National Concert Hall on Sunday 5th April 2020 but the awards were announced online due to the pandemic.  The audience choice award is voted for by the public, and Bread Not Profits by Mike Finn was the winning production for 2019.  We were particularly delighted, as a cancelled performance due to a Met Eireann weather warning meant that two of the Irish Times judges were unable to see the show.
To celebrate the award,  we made a recording of the production available on line for 48 hours from 9th April to 11th April 2020.  Attached to this streaming was a Go Fund Me campaign to raise money for the core cast and design team of Bread Not Profits.  We were delighted that funds raised for artists topped our goal of €2,500 and the recording was viewed by 1,700 people in 28 countries.   Thank you to everyone who supported this effort by sharing on-line links and by making donations.
Special thanks and acknowledgement goes to everyone who worked on this production, and in particular producer Ella Daly and writer Mike Finn who put their hearts and souls into bringing this site-specific production to Limerick.  It was large-scale, uniquely set in Cleeve's Factory Limerick , with a cast of 12, a community cast of 14, attracting a lot of local attention and selling out a 10 day run before it opened.
Up to 60 people were employed during this show – and a large number of those from Limerick.  The award is all the more timely given its resonance with the current times.  April 2019 was the centenary of the Limerick Soviet which also resulted in a kind of lockdown where people rallied together, stood up for one another, and came together in an extraordinary showing of community solidarity.
The videoclips below feature extracts from the performance with some scenes accompanied by the closing song of the production composed by David Blake.
Bread Not Profits was supported by  the Arts Council, Limerick City and County Arts Office, Lime Tree Theatre Limerick, Belltable:Connects, The Univeristy of Limerick,  Troy Studios,  SIPTU,  The Communications Workers Union and Limerick Inside Out.